Staff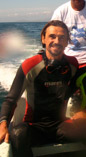 Lorenzo Bini
Italian, Co-owner of Deep Blue Dive School, Master Scuba Diver Trainer, Emergency First Response and Emergency First Response for Children Instructor.
Opened the dive center in 2003 and since then enjoys teaching scuba diving to students from all over the world and keeps having fun along the coasts of Puerto Escondido.

Alberto Ruggiero
Italian, Co-owner of Deep Blue Dive School, never got his scuba diving certification but has been diving for years.
Alberto is the only one of us still living in Europe, (but not for long).

Victor
Mexican, Dive Master and Boat Captain.
Despite his young age Victor is surely one of the best boat drivers in town and already has plenty of experience in the ocean. Truly the best option we could find for a captain for our boat "Black Marlin".

Gabriel Muñoz Jimez
Mexican, Dive Master for over 30 years, "Gabo" is the real linchpin between us. His sympathy, hospitality, and philosophy of life permit all of us to enjoy more and more of Mexico. Unfortunately, because of his work he can't always be in Puerto Escondido. In case you don't dive, don't snorkel or get sea sick just watching the ocean, you can still wait the night and go dancing with him…you'll never find a better dancer.